About Us

All those customers who want to buy edible items and herbal products are welcomed by Jai Sakthi Imports & Exports. We are a famous supplier, exporter and trader of Ponni Rice, Lady Finger, Natural Green Tea, Organic Green Tea, Lemon, etc. The products we supply are pure as they are free from any sort of chemicals, pesticides and injections. We have dedicated professionals who carry out the allocated tasks before the deadline and with respect to the industrial guidelines. The best part of making a purchase from us is that customers can get qualitative goods not only at reasonable rates but at their doorstep as well. We feel overwhelmed to report that till now have been successful in making our customers satisfied via our premium products, fair policies and customer-centric approach. From day one, our focus has been on making the clients happy and this strategy to run the business has enabled us to emerge as an ideal store to have business deals.

What Makes Us A Worthy Destination?

Before a customer chooses a company to have the business deals he/she first identifies whether the company is worthy and can it offer the right value of their money. Here are some benchmarks of our enterprise due to which we being liked by the clients:

We practice moral policies and no matter what we never deceive our prestigious customers.
We collect customer feedback at the end of the deals which not only helps us in improvisation but also in developing a cordial relationship.
We ensure prompt delivery of customers order because we value their time and doesn't want to hamper their business because of our delayed orders.

A One-Stop-Shop

From our podium, customers can get a wide range of products including Lemon, Natural Green Tea, Organic Green Tea, Lady Finger, Ponni Rice etc. We procured items from different vendors and supply them to customers after quality checks and at reasonable rates. By choosing us to have the business deals customers can save their precious time as they need not wander at other places to get the basis necessity consumable items and herbal products. Further, we offer doorstep delivery of consignments within a stipulated time frame.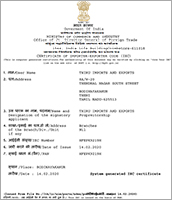 Read More